Dodge Charger carries Iron Man to East Tennessee to surprise sick kids in Knoxville near Crossville, Tennessee
East Tennessee played host to a special superhero recently, the one and only Iron Man. The famous comic book hero was in town to complete his mission of putting smiles on the faces of kids at East Tennessee Children's Hospital in Knoxville, near Crossville TN.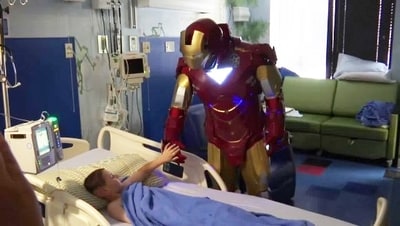 Under the helmet is Dallas Police Department Senior Corporal Damon Cole, who has used his own money and vacation time over the past three years to change the public's perception of police offers. With four fellow Dallas policemen, Cole created
Heroes, Cops and Kids, an organization dedicated to enhancing "the quality of life of children and young adults by developing effective relationships between children and positive adult role models."*
"The whole point here is to get them to forget about their illness, their pain, any kind of problem they're going through," Cole, who drove 13 hours from Dallas to East Tennessee to surprise the kids. Cole traveled in his in customized Dodge Charger that he redesigned to advertise Superman, who he also portrays when he isn't donning the Iron Man suit.
The parents at the Children's Hospital enjoy the pleasure the visits bring to their children. "We just appreciate people coming through and doing something fun," said parent Kathryn Pafunda.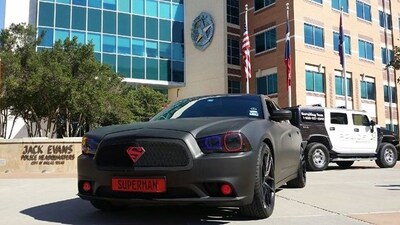 Iron Man has an awesome Dodge Charger, so why shouldn't you?
Click here
to shop East Tennessee Dodge's New Charger Inventory!