The Dodge Charger, An Experience One Can Never Forget!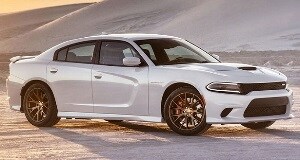 There is something to be said about any Dodge Charger, let alone a brand new top of the line 2016 Dodge Charger. With options like the 300 horse power, 3.6 Pentastar V-6 Engine or the 640 Horse Power V-8 6.4 liter engine, the choices for any Dodge enthusiast are endless. This beast will be unchained and released into the world at the deserving price of $50,000+ sometime in mid-2015. This muscle car can dwarf a lions roar with it's own as it tears apart any road as it bounds down it.
You should a try a Dodge Charger today! Test driving one has never been easier, just come down to East Tennessee Dodge Chrysler Jeep Ram. This 2015 Dodge Charger is sitting on the lot right now just waiting for the new generation to join it. If you drive a car like this you'll likely always be the first to the lane in a red light standoff, you're probably going to be getting ogled by the cars you drive by. To top it all off, it comes with a high quality sound system that will make your lightning fast drive an enjoyable one too.
Try this car out today at East Tennessee Dodge Chrysler Jeep, you could be on the road in a new 2015 or 2016 Dodge Charger this afternoon.